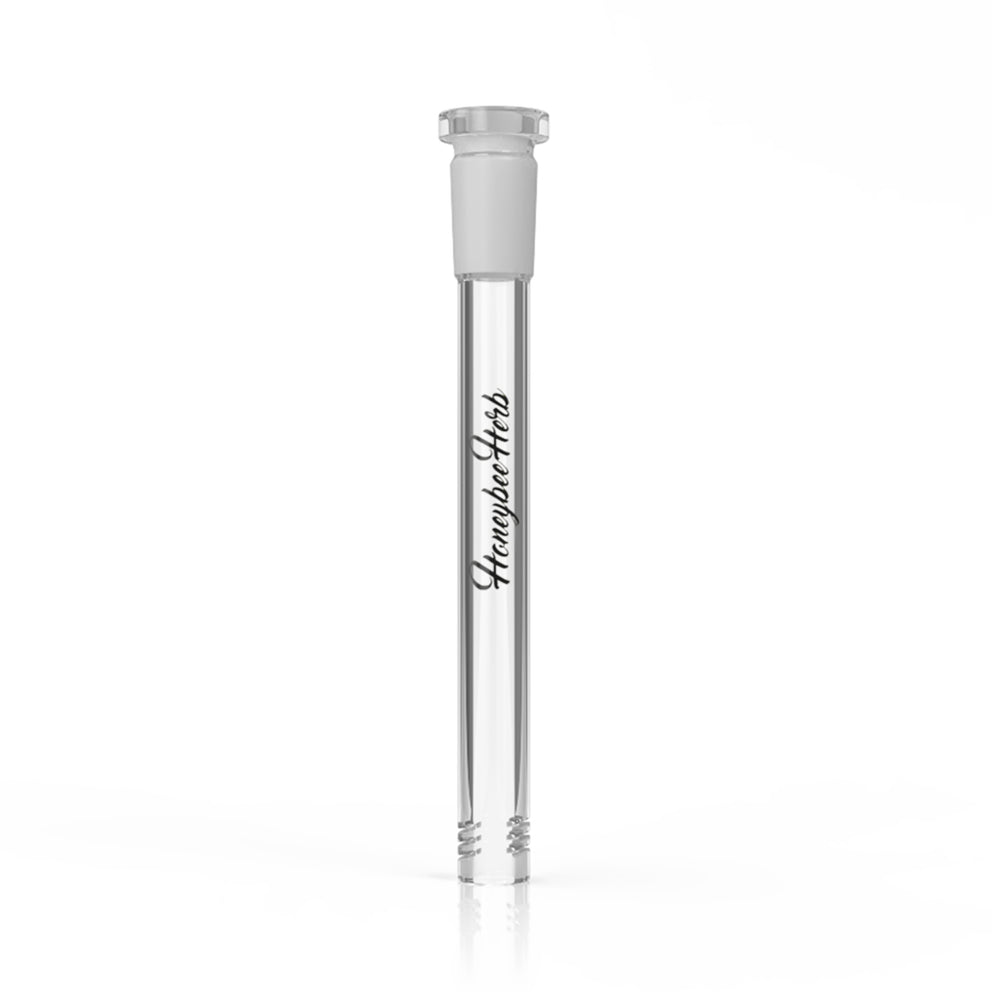 DOWNSTEM
$12.75
$14.99
The downstem is one of the most important parts of any water pipe, bong, or bubbler. It is responsible for diffusing and aerating the smoke before it reaches your lungs, and it can also help to cool the smoke down. Designed to fit 18mm male jointed water pipes, this 14mm female downstem fits those perfectly. Considerations When Choosing a Downstem   There are a few things to consider when choosing a downstem for your Bong or Waterpipe. The first is the joint size - you'll need to make sure that the downstem sizes fits snugly into your water pipe's joint. The second is the length - you'll want to choose a glass downstem that is long enough to reach the bottom of your water pipe but not so long that it makes it difficult to clean. Finally, you'll need to decide on the type of glass downstem you want. There are two main types - diffused downstem and non-diffused downstem. Diffused downstems have slits or holes that help to diffuse the smoke, while non-diffused bong downstems do not. Final Verdict No matter what type of downstem bubbler you choose, make sure that it is made from high-quality materials. Cheap downstems for waterpipe can break easily and can be difficult to clean.  If you're looking for a great selection of downstems, check out our online head shop. We've got a wide variety of downstems lengths to choose from, and we're sure you'll find the perfect one.
GLASS CONVERTER ADAPTER
$10.20
$11.99
If you're a fan of both rigs and bongs, then you know how frustrating it can be when your favorite pieces need to be compatible. That's where our rig and bong converters come in! These handy little glass adaptors allow you to connect any banger or flower bowl to any waterpipe, so you can enjoy the best of both worlds without buying new pieces.   Our rig and cart bong converter adapters are made of high-quality glass, so you can be sure they won't affect the taste or quality of your smoke. We have also gone the extra mile and have produced them with a full frosted effect. They're also very easy to use; simply attach the silicone cart rig adapter to the rig or beaker bong and then place your banger or flower bowl into the opening end of the adaptor. In just seconds, you'll be able to enjoy the smooth, flavorful hits you love.   So don't let incompatible pieces ruin your smoking experience - pick up our collection of a dab rig and bong dab adapters today and smoke happy!   If you are in need of other components to add to your toolbox make sure to check out our full line of glass or silicone dab adapters and downstems.
GLASS REDUCER
$8.50
$9.99
The glass reducer is used to convert 10 male bangers to be used on a dab rig that has 14 female openings. If you need a different-size glass converter adapter, you can check out our full line of glass adapters. Considering that every smoker has their own preferences, no bong or rig is perfect for everyone. Despite this, you don't have to accept a disappointing experience. By using bong dab adapters and converters, you can change how your tools work. You need to be able to pick the appropriate joint size and joint gender conversion for your items because there are so many different bongs, dab rigs and reclaim catcher available.