HONEYCOMB BARREL QUARTZ ENAIL | YL
$25.50
$29.99
Domeless Clear or Frosted Joint Edge - Rounded 20mm Enail Coil Recommended The Honeycomb Barrel Enail is off the charts wild. This is a madly great domeless quartz banger, giving an unheard-of level of dabbing most are new to. Also, this development gives a dab sesh no dabber will ever neglect.   With an iced joint plan, there isn't anything else like the Honeycomb Barrel Enail in the dabbing business today. These are shockingly alluring and tastefully perfect, giving a piece that stands apart in the midst of all others in the most ideal manner conceivable.   Honeycomb Barrel Enails come in either a 14mm or 18mm enail banger, and you'll have the option to pick between a Male or Female connector. With these choices, you'll discover buying the right quartz nails to accommodate your rig has never been simpler. Submit your order and experience significance with the Honeycomb Barrel Enail Banger.   What's more, to hold your beast globs of oil, try to get one of these super dope monogrammed Hexagon Silicone Slick Container. They're ideal for bringing your concentrate anyplace and wherever you'll need to take it.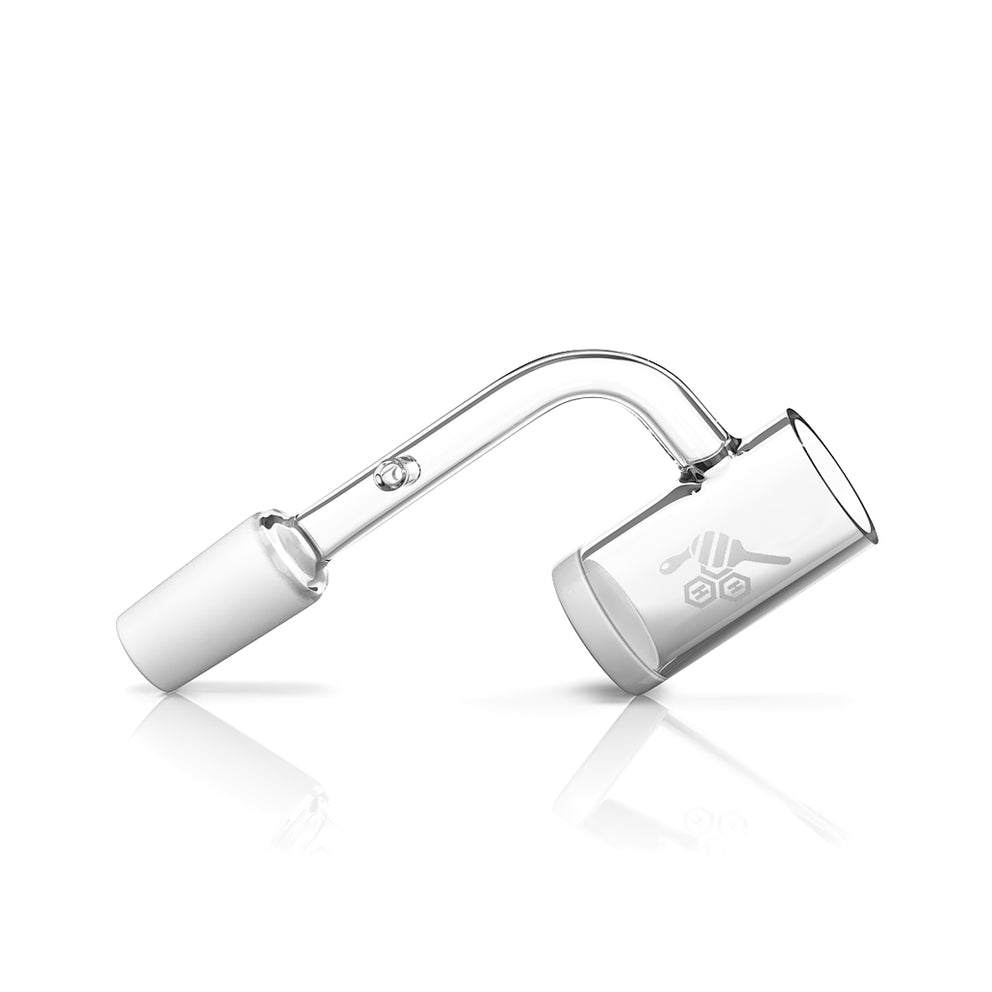 HONEY & MILK ENAIL QUARTZ BANGER - 90° DEGREE | YL
$25.50
$29.99
Outer Diameter - 20mm Thickness - 2mm Opaque Base - 4mm Edge - Flat Top 90° Frosted Joint 20mm Enail Coil Recommended Compatible Pearl Size(s) - 4mm, 6mm Recommend Carb Cap(s) - HONEY TOPPER CARB CAP   The Honey and Milk Enail Quartz Banger features an outer diameter of 20mm, a thickness of 2mm and an opaque base for better heat retention. The main feature of this dab rig banger that sets it apart from many others is the post that is located on the neck. The purpose of this post is so you can use your favorite Electronic Nail with this quartz banger. The post itself gives a place for you to hang your chord. With a thickness of 2 mm and outer diameter of 20 mm, this nail is great for many common size enails on the market.    Keep in mind that this nail can be used traditionally with a butane torch as well and does not require an enail for proper function.   In need of a Concentrate Tool to pair with your new Honey and Milk Enail Quartz Banger? Look no further than the Glass Pencil Concentrate Dab Tool!   For this banger, we recommend our Honey Topper Carb Cap. Because when you use this pair together, you will get the best dabbing session.  
TOP HATS
$12.75
$14.99
Top Hat Replacement Set (2 Pack) In need of a core replacement for your Top Hat? You've come to the right place. These Top Hat Core Replacements are the perfect addition to anyone looking to fill a gap. Whether you broke your old core or simply want to ensure you always have a new core on hand for when the time comes, these Top Hat Core Insert Replacements are going to bring you the performance you want.   When it comes to replacement cores, these Top Hat Core Replacements are built to last. And while their performance is impressive, what's really beneficial is how this package of dab inserts comes with two replacement cores for your Top Hat core reactor. These quartz banger inserts are always suitable for minimizing your dabbing downtime by being prepared. Take your preparation to the next level and add the Top Hat Core Replacements to your cart today.   Thinking about adding a new piece of quartz insert to your collection? Then combine your Top Hat Core Replacements with a Honey & Milk Core Reactor & Dab Marble Set or Honey Dab PearlsThese bad boys bring on a whole new level of performance, and the Top Hat Core Replacements will work with this piece. With an opaque WHITE bottom paired with a heat retention core, you'll find this insert piece aesthetically gorgeous and able to take the heat. All in all, the Honey & Milk Core Reactor is just another quality piece you should add to your collection. So add it to your cart now and receive it with your Top Hat Core Replacements!